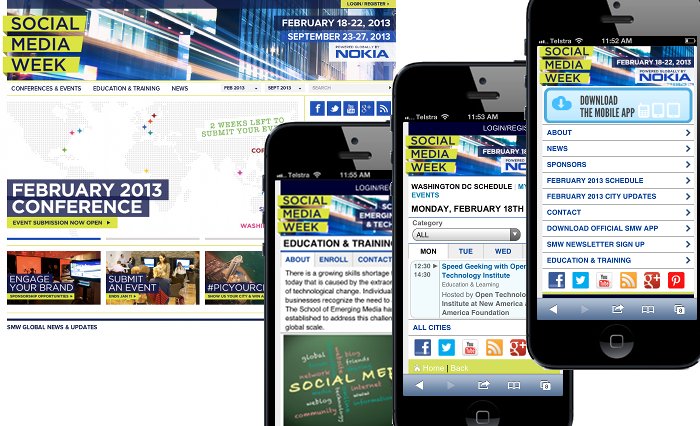 New Media Innovation teamed up with our Sales partner in the USA Mobile Perspectives to deliver Social Media Weeks New Mobile Site. We will let them describe the project.
You may (or may not) have noticed that we've been changing things up at Social Media Week- building out new products, enhancing old ones. From the one-click registration system to our new mobile apps and down to our new mobile website, we want to improve the overall experience of SMW. And that means making SMW more convenient- so, yes, we did say mobile. Now, when you visit our site on your smartphone, you get delivered a crisp, clean and mobile-friendly version of our site- including registration. You can register for events, learn more about our city organizers and what's going on in each of them, and- for your tweeters out there- experience the site when you click through a link on your phone.
So, pick up your phone, check it out, and let us know what you think! We'll be building upon it for SMW12 September, making it even better. In the meantime, meet the team that helped make it happen: Todd Shingler of Mobile Perspectives and Rob Leishman of New Media Innovation.
Events